Events
Verrans School memorial plaque for Muriel Fisher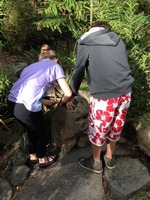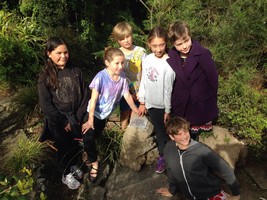 Verran Primary School has been involved with the garden for many years and planted a kowhai tree in the rock garden area in Muriel's honour when she died in 2012. On 23rd May a group of students and teachers mounted a memorial plaque near the kowhai in memory of Muriel Fisher.
You can read an article about the event on stuff.co.nz.
It's great to see the younger generation showing interest in native plants and the continuous support of Fernglen Gardens by Verran School. Very much appreciated!
Kaipatiki Ecofest 2017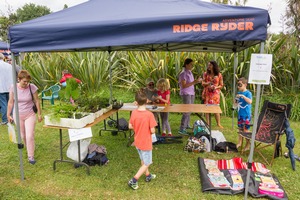 Fernglen Gardens had a stall at the Kaipatiki Festival Enviro Family Fun Day in March. It was a great opportunity to get in touch with locals and community organisations and sell a few surplus plants from the gardens.
Thank you to all that have visited the Ecofest. We hope to see you soon again.
Working Bees
Working bees are currently taking place on the 2nd Saturday of each month. They usually run from 9am to 1pm and involve maintenance of the gardens as well as planting. We meet inside the gate area/in front of the education room. If you are interested in keeping the Fernglen Gardens in good shape and while doing that learn more about native plants, you are very welcome to join in. We are currently only a small group of people and any additional help is very much appreciated.
The next working bee will be on Saturday 9th January. Please bring gardening gloves/tools if you have any and don't forget to pack a snack and water. Tea and coffee are provided. All necessary information will be provided at the time.
During the working bees in July and August we removed more pest and weed plants from the entry area, in and around the rock gardens and the education center. We also cleared some patches around Ben's Ridge, the fernhouse planted new plants and added more gravel to various tracks. And to do our share for a pest free Kaipatiki, we placed chewing cards all over the gardens and then used those results to strategically set bait stations. The baiting is still ongoing and will help to get the rats under control especially during the upcoming nesting season.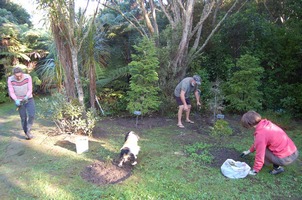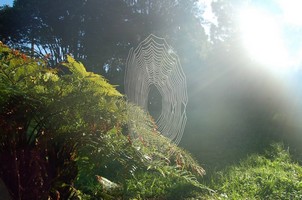 The working bees in May and June involved further cleaning up and weeding of the entrance and rock garden areas as well as working on Ben's Ridge. With some additional help from members of Pest Free Kaipatiki we got quite a lot done. One highlight was de-cluttering the education centre: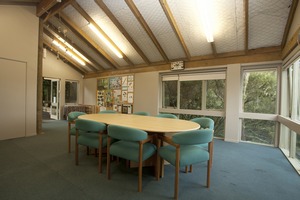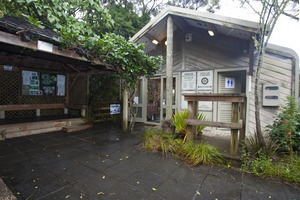 In April we removed a lot of wild growth at the northwestern entrance and the area around the former house site. This will open up the area for new plantings and clears the way for a bus stop that is planned for the future. We also maintained and cleaned up the bush tracks and continued digging trenches along those to control the water runoff during heavy rainfalls.
In March we did more weeding in the rock gardens and a major cleanup of the native grass areas on Ben's Ridge, to prepare them for new plantings which are planned to be done in autumn and winter. We also freed a Kauri from unwanted competition.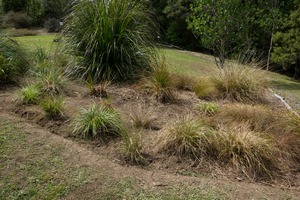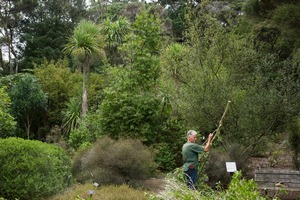 The working bee February involved weeding and clearing a large amount of unwanted/rogue species in and around the rock gardens, entrance area and Alpine house. This improved the visibility of various interesting and rare species a lot.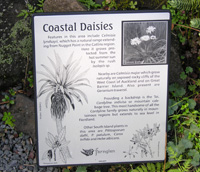 One of the working bees last year involved planting divaricating shrubs in Ben's Ridge, which have a remarkable history: One theory is that divaricating shrubs have evolved into a bushy, tangled form from the days when they were eaten by moa. These shrubs survived by evolving into this bushy mass that the moa would get tangled in if they tried to eat them.
Open Days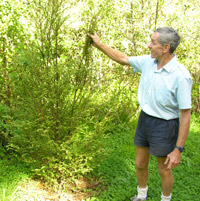 Fernglen has open days twice a year occurring in spring and summer. Members of the public are invited to come along and enjoy:
A guided tour
Sale of plants
Artwork displays by local groups
Afternoon tea - introductions to Fernglen