Fernglen Native Plant Gardens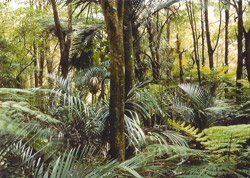 Fernglen Gardens are located in Kauri Road, Birkenhead and owned by the Auckland Council and administered by the Auckland Council Parks Department.
Fernglen is devoted to the growing and preservation of New Zealand plants. It aims to educate people of all ages about New Zealand flora and fauna. The gardens consist of approximately 9 acres of Kauri Association bush with roughly half an acre under cultivation.
Well maintained walking tracks provide an excellent opportunity to observe many interesting species including two 300 year old kauri and ancient rimus clothed in epiphytes.
A huge thank you to Ground for Good, supporting cafes and cafe drinkers involved in the promotion of returnable cups.
Collectively their cafes have raised $2,306.50
And they have saved over 4,600 cups from going to landfill
Fernglen Native Plants Gardens Trust is grateful for the generous donation.
Of special interest to Fernglen visitors will be: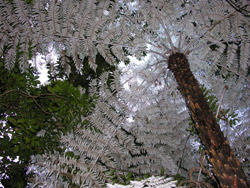 The collection of rare alpine plants
View other rare and endangered plants from throughout the New Zealand botanic region
An enclosed Fernery containing 'Prince of Wales Feather Fern'
A bush walk across serene nikau tree fern gully surrounded by a great variety of native bush
The smallest conifer in the world
The largest forget-me-not in the world
Birds all year round: Riroriro (Grey Warbler), Nakonako or Pipiwharauroa (Shining Cuckoo) Kereru (Wood Pigeon), Tui, Tauhou (Silvereye)
Minibeasts galore
New wetlands area where cattle once grazed and watered
Spring flowers
Autumn seed collecting
The entrance to Fernglen is located along the extension of Kauri Road at:
36 Kauri Road (between house numbers 30 and 48)
Birkenhead
Auckland
Fernglen welcomes visitors daily during daylight hours. We ask visitors to Fernglen to please sign the visitor's book located next to the information signs by the entrance gate before you leave.