The Alpine House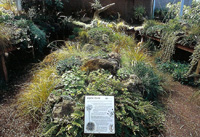 Please note that the Alpine House is currently under renovation.
Fernglen has aimed at creating an alpine environment. Only a fraction of the North Island consists of alpine regions, so it is the South Island with its hundreds of peaks over 300m high which provide us with a wealth of interesting and unusual plants.
The alpine house is eight metres long and five metres wide, with double doors opening at one end. The alpine house is spacious enough to create a mound in the centre, designed to portray the various zones.
Take a tour of the Alpine House
On the low mound just inside the door you will see the rare and endangered Chatham Island sow thistle (Embergia grandiflora). Also from the same region is the soft-leaed speargrass (Aciphylla dieffenbachii). Nearby is the native foxglove (Ourisia macrocarpa) alongside the Akaroa daisy (Celmisia mackaui).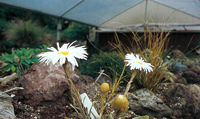 The 'mount' portrays the various zones - grassland (Carex species) at the base. Further up there is the sub-alpine scrub consisting of Olearia macrodonta, Hebe cupressoides and Hebe sub-alpina. Interspersed with sedges, Celmisia species (alpine daisies) represent the herb field. Higher still you will see the North Island edelweiss and the cushion plants (Raoulia) which grow up to the line of perpetual snow.
Surrounding the whole area is a combination of tussock grassland together with sub-alpine species e.g. Gaultheria and the handsome mountain cabbage tree. Also tucked away amongst the grasses and sedges are Mt. Cook buttercups, the free-flowering Celmisia bonplandii, which grows naturally on coastal rocks in the Clutha and Catlins regions.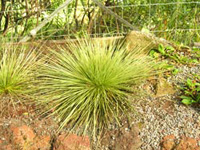 There are some very rare (as far as Auckland is concerned) and unusual plants growing at eye level so they can be seen easily. The genus Aciphylla is well represented and we have some excellent specimens. Although these plants belong to the parsley and carrot family, they have leaves as sharp as bayonets. Just one example of many which make up the New Zealand flora. Most of the plants on display have been obtained from South Island nurseries.