Ben's Ridge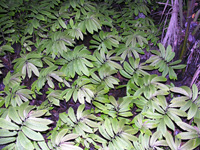 At the end of the fern path you can turn right and return to the gazebo or turn left and explore further. The track decends to a deep gully carpeted with the New Zealand begonia, or parataniwha. A boardwalk leads to a steep slope where the ground had become unstable but now has well-made wooden steps leading to the Birkenhead Rotary Club's Kauri Grove.
Along the track past the kauri is the scented fern (Paesia scaberula), which covers quite an extensive area and further on out into the open is the upper part of Ben's Ridge. In the period between the 1920s and 1960s a family named Townsend lived at the top of what was a cow paddock.
Mr Townsend, Ben, used to visit the Fishers and instead of walking all the way along the road he chose to walk down the ridge and through the bush. It came to be called Ben's Ridge and the Committee chose to retain the name.
Cows grazed in this area until the 1950s and in the early days the Fishers dug a deep hole approximately seven metres long and three metres wide as a watering hole for the animals. When the area was made more accessible the Committee thought the hole was a hazard and should be filled in. Weeds were also starting to take over because the area had been neglected for years. It has been resolved to turn the area into a wetland.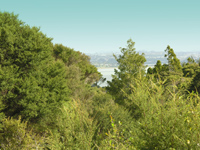 A grove of young Kauri funded by the Birkenhead Rotary Club have been planted in Ben's Ridge. These trees were planted to coincide with the launching of Rotary's "Trees for Survival" program in 1999 and eventually will be allocated to district governors of Rotary and will bear a plaque to that effect.
Ben's Ridge is home to over sixty trees and shrubs, a divaricating shrub collection, Chatham Island, Kermadec Island and grass collections.
There is a seat at the top of the ridge from which one can catch a glimpse of the upper arm of the Waitemata Harbour.
The track returns through typical regenerating Auckland rain forest, Kanuka, tanekaha, kiekie, supplejack and nikau are a few of the species there. Wooden steps lead across a stream and ascend on the other side, where the track proceeds through a grove of rimu planted by the Fishers in the 1920's. From here the track is pretty well level going and emerges lower down Kauri Road about thirty metres from the car park.